Page 10 - CUHK MEDICAL ALUMNI Newsletter Issue 2 Vol 6 2017
P. 10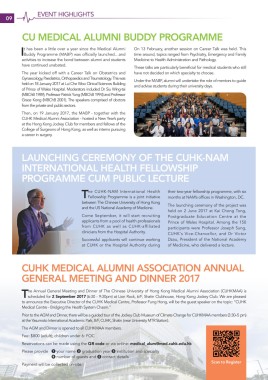 EVENT HIGHLIGHTS
    09



           CU MEDICAL ALUMNI BUDDY PROGRAMME


            t has been a little over a year since the Medical Alumni   On 13 February, another session on Career Talk was held. This
          IBuddy Programme (MABP) was officially launched…and   time around, topics ranged from Psychiatry, Emergency and Family
           activities to increase the bond between alumni and students   Medicine to Health Administration and Pathology.
           have continued unabated.
                                                             These talks are particularly beneficial for medical students who still
           The year kicked off with a Career Talk on Obstetrics and   have not decided on which specialty to choose.
           Gynaecology, Paediatrics, Orthopaedics and Traumatology. This was   Under the MABP, alumni will undertake the role of mentors to guide
           held on 18 January 2017 at Lui Che Woo Clinical Sciences Building   and advise students during their university days.
           of Prince of Wales Hospital. Moderators included Dr Siu Wing-tai
           (MBChB 1989), Professor Patrick Yung (MBChB 1994) and Professor
           Grace Kong (MBChB 2001). The speakers comprised of doctors
           from the private and public sectors.

           Then, on 19 January 2017, the MABP - together with the
           CUHK Medical Alumni Association - hosted a New Year's party
           at the Hong Kong Jockey Club for members and fellows of the
           College of Surgeons of Hong Kong, as well as interns pursuing
           a career in surgery.



           LAUNCHING CEREMONY OF THE CUHK-NAM

           INTERNATIONAL HEALTH FELLOWSHIP

           PROGRAMME CUM PUBLIC LECTURE


                                        he CUHK-NAM International Health    their two-year fellowship programme, with six
                                     TFellowship Programme is a joint initiative   months at NAM's offices in Washington, DC.
                                     between The Chinese University of Hong Kong   The launching ceremony of the project was
                                     and the US National Academy of Medicine.
                                                                            held on 2 June 2017 at Kai Chong Tong,
                                     Come September, it will start recruiting   Postgraduate Education Centre at the
                                     applicants from a pool of health professionals   Prince of Wales Hospital. Among the 150
                                     from CUHK as well as CUHK-affiliated   participants were Professor Joseph Sung,
                                     clinicians from the Hospital Authority.   CUHK's Vice-Chancellor, and Dr Victor
                                     Successful applicants will continue working   Dzau, President of the National Academy
                                     at CUHK or the Hospital Authority during   of Medicine, who delivered a lecture.




           CUHK MEDICAL ALUMNI ASSOCIATION ANNUAL

           GENERAL MEETING AND DINNER 2017


             he Annual General Meeting and Dinner of The Chinese University of Hong Kong Medical Alumni Association (CUHKMAA) is
           Tscheduled for 2 September 2017 (6:30 - 9:30pm) at Lion Rock, 6/F, Shatin Clubhouse, Hong Kong Jockey Club. We are pleased
           to announce the Executive Director of the CUHK Medical Centre, Professor Fung Hong, will be the guest speaker on the topic: "CUHK
           Medical Centre - Bridging the Health System Chasm."

           Prior to the AGM and Dinner, there will be a guided tour of the Jockey Club Museum of Climate Change for CUHKMAA members (3:30–5 pm)
           at the Yasumoto International Academic Park, 8/F, CUHK, Shatin (near University MTR Station).
           The AGM and Dinner is opened to all CUHKMAA members.
           Fee: $800 (adult); children under 6: FOC
           Reservations can be made using the QR code or via online: medical_alum@med.cuhk.edu.hk

           Please provide  ❶ your name ❷ graduation year ❸ institution and specialty
                        ❹ number of guests and ❺ contact details
                                                                                               Scan to Register
           Payment will be collected on-site.