Page 11 - CUHK MEDICAL ALUMNI Newsletter Issue 2 Vol 6 2017
P. 11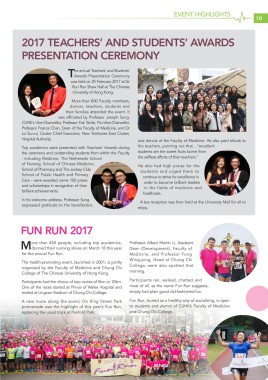 EVENT HIGHLIGHTS
                                                                                                                   10




           2017 TEACHERS' AND STUDENTS' AWARDS


           PRESENTATION CEREMONY



                                  he annual Teachers' and Students'
                               TAwards Presentation Ceremony
                                was held on 25 February 2017 at Sir
                                 Run Run Shaw Hall at The Chinese
                                 University of Hong Kong.
                                 More than 800 Faculty members,
                                donors, teachers, students and
                              their families attended the event. It
                           was officiated by Professor Joseph Sung,
           CUHK's Vice-Chancellor, Professor Fok Tai-fai, Pro-Vice-Chancellor,
           Professor Francis Chan, Dean of the Faculty of Medicine, and Dr
           Lo Su-vui, Cluster Chief Executive, New Territories East Cluster,
           Hospital Authority.                                and donors of the Faculty of Medicine. He also paid tribute to
           Top academics were presented with Teachers' Awards during   the teachers, pointing out that…"excellent
           the ceremony and outstanding students from within the Faculty   students are the sweet fruits borne from
           - including Medicine, The Nethersole School        the selfless efforts of their teachers."
           of Nursing, School of Chinese Medicine,            He also had high praise for the
           School of Pharmacy and The Jockey Club              students and urged them to
           School of Public Health and Primary                  continue to strive for excellence in
           Care - were awarded some 100 prizes                   order to become brilliant leaders
           and scholarships in recognition of their              in the fields of medicine and
           brilliant achievements.
                                                                 healthcare.
           In his welcome address, Professor Sung              A tea reception was then held at the University Mall for all to
           expressed gratitude to the benefactors
                                                              enjoy.



          FUN RUN 2017


               ore than 450 people, including top academics,   Professor Albert Martin Li, Assistant
          Mdonned their running shoes on March 18 this year   Dean (Development), Faculty of
           for the annual Fun Run.                         Medicine, and Professor Fong
                                                           Wing-ping, Head of Chung Chi
           The health-promoting event, launched in 2001, is jointly
           organised by the Faculty of Medicine and Chung Chi   College, were also spotted that
           College of The Chinese University of Hong Kong.  morning.
           Participants had the choice of two routes of 5km or 10km.   Participants ran, walked, chatted and
           One of the races started at Prince of Wales Hospital and   most of all, as the name Fun Run suggests,
           ended at Lingnan Stadium of Chung Chi College.   simply had plain good old-fashioned fun.

           A new route along the scenic On King Street Park   Fun Run, touted as a healthy way of socialising, is open
           promenade was the highlight of this year's Fun Run,   to students and alumni of CUHK's Faculty of Medicine
           replacing the usual track at Penfold Park.      and Chung Chi College.